Waterpark Planning – Get Ready for Hotter Summers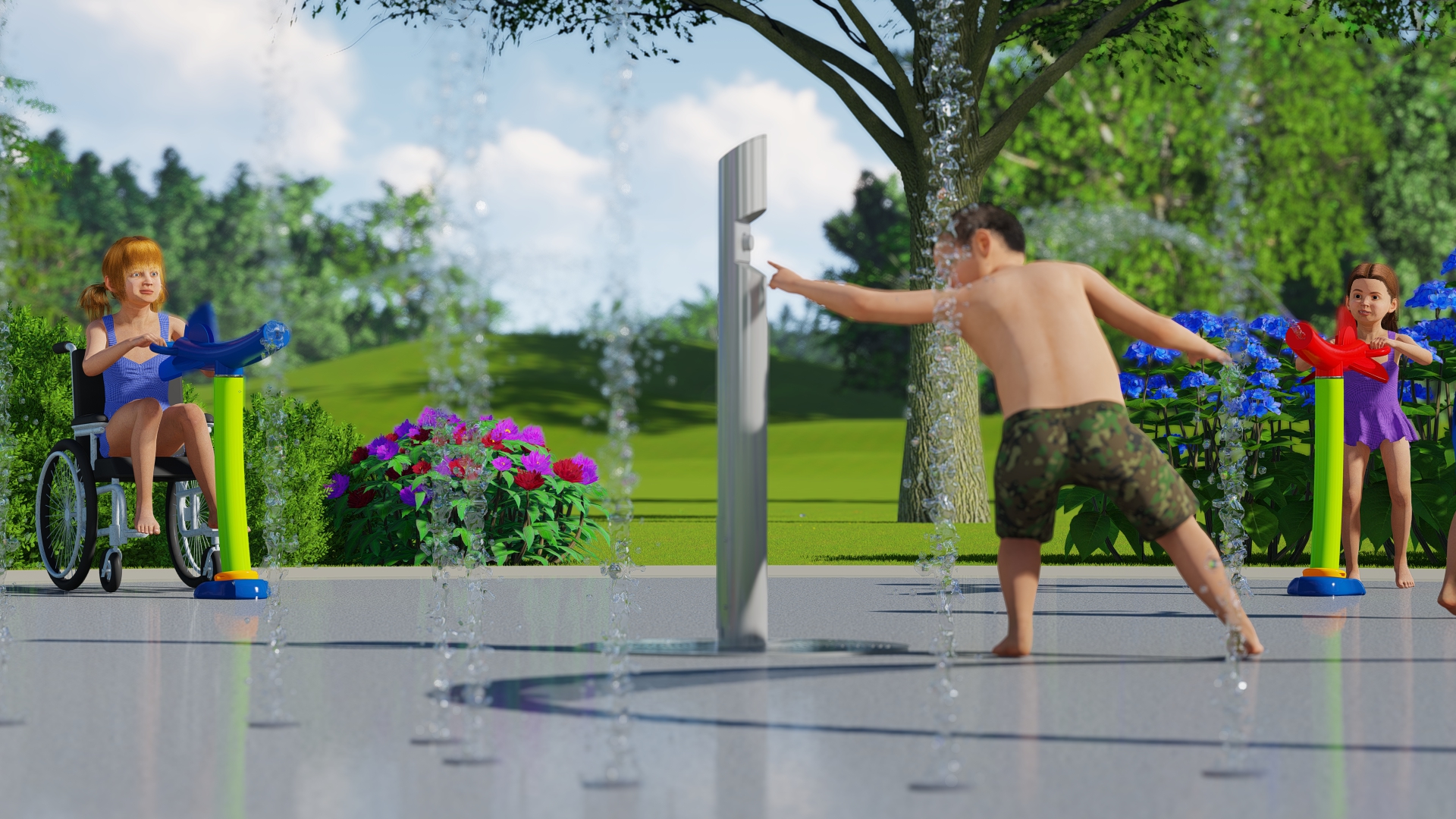 Written by Sonya Wilson
Cooling stations, in the form of splash pads, may be one way to offer relief in urban areas for the hot summers we are being told are the new normal. Proper waterpark planning creates spaces that are inclusive, accessible, and can be enjoyed by anyone. When incorporated into a park setting with places to sit, with trees and bushes breathing coolness into the air, they provide a welcome, and necessary, break from the heat.
The heat dome that spread through parts of Canada this summer felt like living in a sauna. With temperatures reading 37C at 9:30pm, it had folks sitting with their feet in buckets of ice water, hanging out in shaded parks until well after the sun went down, seeking cooling centres in their neighbourhoods, and jerry rigging fans for optimal air movement. Air conditioners sold out and with rising temperatures and dwindling options for respite, came rising panic about keeping core body temperature in the safe zone. Ideas for keeping cool consumed people and hijacked every conversation.
Those scorching days have left a nagging feeling of needing to prepare for more of the same in the future. With fall and winter approaching, we have the luxury of time to begin waterpark planning and prepare for next summer – and the ones that follow.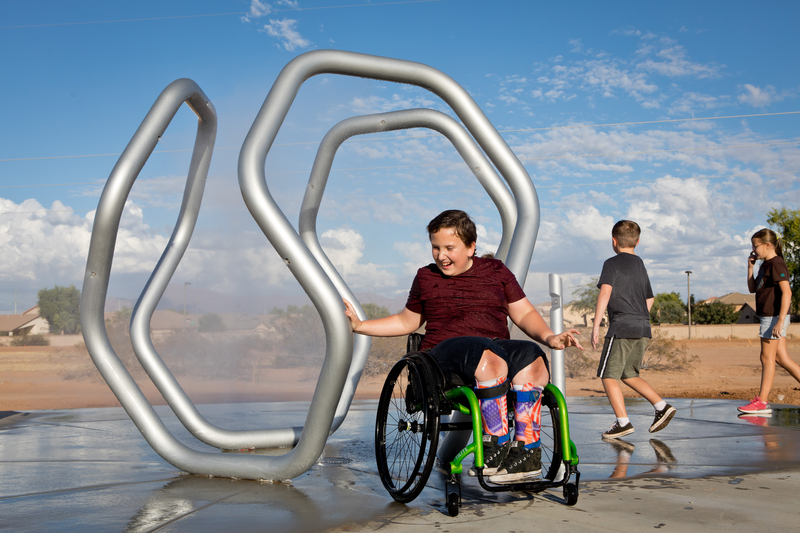 If you are considering integrating splash pads into your next project you might want to continue reading to find out why the AquaSmart™ Packages from Aquatix are perfect little gems in the world of waterpark planning.
Top 4 Reasons We Love AquaSmart™ Packages:
They require no electricity to operate

Turning on the water is a game! Users activate the water flow

Low flow rate AND low water consumption

Simple and easy to install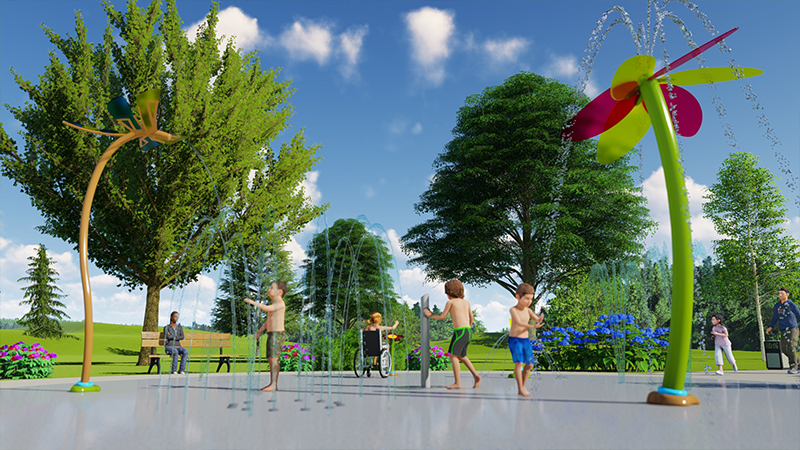 There are eight pre-designed packages to choose from that are particularly suited to smaller spaces, urban landscapes, pocket parks, and areas where access to electrical service would be difficult and expensive to provide. One of the awesome features of these splash pads is how little water they use. They were designed for low flow, low water consumption and use less water than standard domestic systems. The flow rate is approx. 50-60 GPM.
FAQ's and Technical Information for Waterpark Planning
How big are these splash pads?
They are circular pads with a diameter about as long as a standard city bus (approx. 40ft)
How do they work if they don't use electricity?
The system works much like a water fountain. You push a button (activation device), and water comes out. It is powered by a non-electrical water delivery system called HydroLogix™. The water stays running for 90 seconds at a time, and it comes on again when the activation device is pushed by the kids.
What is HydroLogix™?
HydroLogix™ is a proprietary technology that uses an activator system which includes an activation device, distribution manifold, drain, and enclosure, all of which is housed in a single, stainless-steel post on the spray pad. This unit is built like a tank and all the internal components are stainless steel. It is vandal, corrosion, and component-failure resistant.
Where does the water come from?
The system uses municipal water and drains back into the municipal sewer system.
How long does it take to install?
About a week plus the 30-day curing time for the concrete pad. The eight pre-designed packages come with a pre-engineered plumbing system, brass fittings, HDPE tubing and all piping. They require a 2" domestic water supply and 4" drain to storm.
What if hours of operation are required on site?
No problem. There is an on/off timer similar to those used in the irrigation industry. The valve box can be below ground or above ground. It takes two 9-volt batteries that have a 12–24-month life.
Is there any maintenance required through the winter?
The unit is easy to winterize at the end of the season. Just shut off the main water supply and turn off the time clock (if using). There is a winter cover on the Hydrologix™ unit that keeps leaves and debris out of the drain.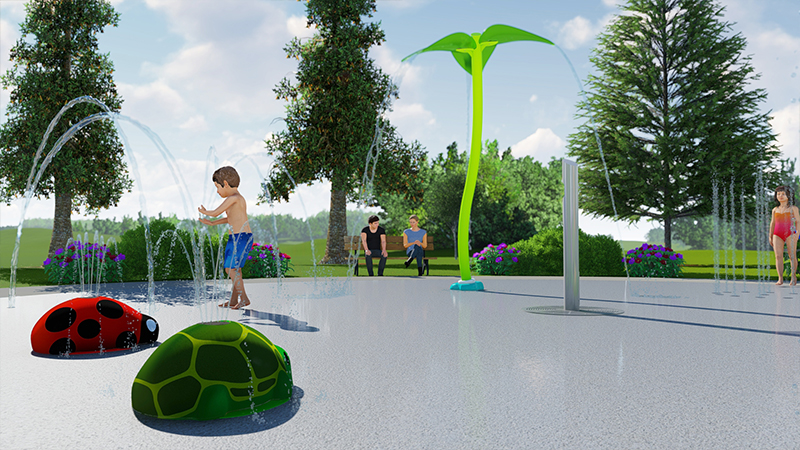 Because the designs have been pre-engineered with full construction documentation, your project would be ready for permitting immediately. Aquasmart™ was engineered to be easy to understand and quick to install. The packages could be easily installed by a community group, supervised by a local contractor or a Habitat Systems installer. This can be of huge benefit if there is a particular group who would like to be involved in the project.
What do you think of integrating interactive water features into urban design to help provide relief from hotter summer weather. Is this something that you are thinking about? If you would like the opportunity to chat with one of our Playground Consultants or schedule a presentation for your group or your clients, please connect with us.