A message from the Habitat Systems Team:

As you read this, Habitat Systems hopes this message finds you, your family, and colleagues well and in good health.
The Habitat Systems team continues to assist in the creation of outdoor spaces that everyone can enjoy. Our team has transitioned to work processes that are in-line with all government recommendations, including social distancing, during this health crisis.
To reach one of our team members directly, please visit our team page.
New to Habitat? Please visit our Contact Us page and we will connect you with a team member.
We're all in this together and we're here as you need us.
How Can We Help You?
Our services include site assessments, design recommendations, fundraising support, in-house installations and grand-opening celebration assistance.
Thoughts from Clients...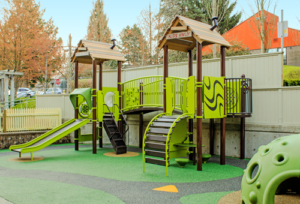 "Jeff and his team, including Phil Milton, the carpenter who creates magic, were always available for us, and made it easy to communicate changes."
"You can see it in the children's faces and hear it in their laughter and conversation. We are over the moon. The process and the product couldn't be more perfect"
Janet Weil, Executive Director / Principal
Children's Hearing and Speech Centre of BC
Vancouver, BC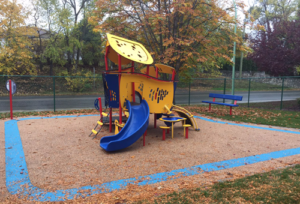 "Thank you so very much for the ease with which this all came together. It was a joy to work with you."
"The structures themselves are esthetically beautiful, and the workmanship that went into their installation, the pour-in-place surfacing (quite magical!), and the curbing was extraordinary. We wish we could do this again!"
Rhonda L. Nelson, Executive Director
Starbright Children's Development Centre
Kelowna, BC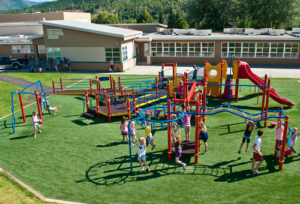 "The Habitat team was the driving force behind the project; they were with us every step of the way. We couldn't have done it without their support, guidance and comfort in knowing we could trust them to lead us in the right direction. The years of experience that Habitat has really shone through in their innovative ideas, suggestions for the play area and overall execution of the project."
Sheryl Moon, PAC
Glenmerry Elementary
Trail, BC
Recent News
November 16, 2020
The subject of bike parking in urban spaces is an integral part of the broader topic of how cycling culture fits into the fabric of a city.
October 20, 2020
In these new COVID times, it seems like outdoor learning is the perfect solution to create a fun and engaging classroom for our kids.
September 29, 2020
Plan and build the perfect playground for any age group, that will put a smile on kids faces and provide amusement for generations to come.
Our Environmental Commitment

Habitat Systems has taken the Pledge for a Sustainable Community in order to honour our commitment in continuing our efforts to create an environmentally friendly workplace. Learn more here.
Over 20 Years

When Habitat opened over 20 years ago we wanted to ensure that we selected only the highest quality products. We proudly distribute Landscape Structures playground equipment.