Splash Pad Design – Creating Summer Fun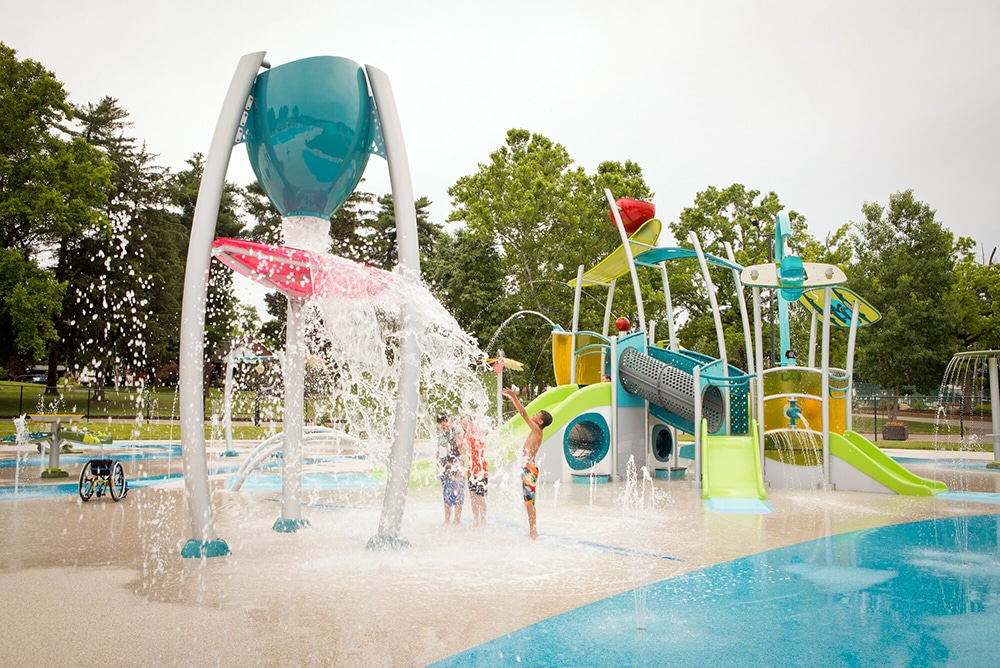 Written by Sonya Wilson
Nothing says summer like the sound of kids laughing and screaming at a neighbourhood spray park. Arriving with towels and sunscreen, snacks, and water, the spray park is a destination for families on the long, hot days of summer vacation. It's a safe place to meet up for a picnic while the kids keep cool playing with their friends in the streams, jets, and big splashes of dumping water.
Everyone, from the families who enjoy the spray park to the engineers, city park planners, and the local health authority, have a stake in a well-planned splash pad design – there is a lot more involved here than planning and designing a community playground. The pre-planning includes assessing the site, determining the budget, and getting community input. Of utmost importance in the preliminary stages of the project is coordinating all of the key players who need to be involved in the process from the outset and to have realistic expectations about timelines.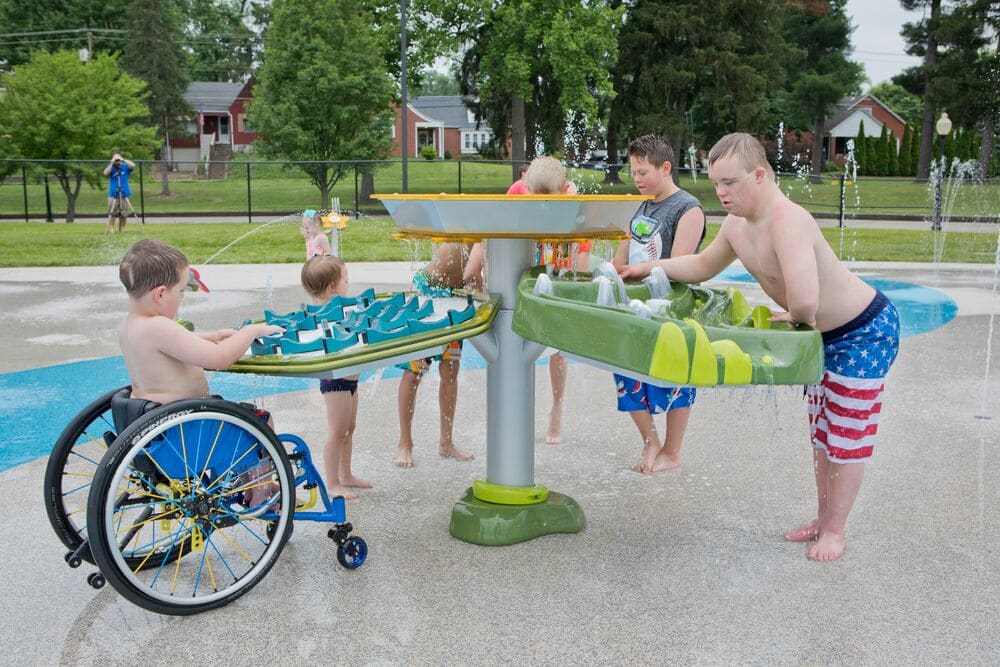 We understand that all of this may seem daunting. This is why we have created a clear step by step guide to help you navigate the waters and ultimately save you time by outlining realistic expectations of the process of creating a splash pad design plan. All of the following steps would be expanded on during a vision meeting with your Habitat Systems Consultant.
Step 1: The Site
You will need to consider the following when choosing the site for the splash pad design:
Site size and location – look at proximity to other amenities like a playground, transit, parking, shade from existing shelters or trees. Also consider proximity to washrooms, drinking fountains, paths, picnic tables, and benches.
Utilities – is there a power source and a water source? Look at the amount of water and pressure that is available at the site. Are there sanitary connections in the area? What is the structural integrity of the soil where the spray park will be located?
Permits – what permits will be required, and who needs to sign off on plans prior to implementing the project?
Step 2: The Local Health Authority
Contact your local health authority as soon as you begin considering installing a spray park. They will let you know what the regulations and requirements are for the type of spray park you are looking at, and the permits you will need to obtain prior to opening the park to the public.
Step 3: Water Flow System Options for your Splash Pad Design
You will need to decide what type of water management system you will be using. This may be determined for you by the health authority in your municipality and certainly by how much water is available at the site and the services close to the site. If you do have options, there are two primary systems you can choose from, as well as a third proprietary option from Aquatix called HydroLogix™.
Drain-Away or Domestic System: This is the most common type of water park system. This type of system uses water from a reliable source – the tap water that is available in the municipal system. It is used in the outflow of water from the spray park features, and then goes down a drain and into the waste-water/sewer system. Water is used only once and it does not recirculate. It is a cost-effective system and is housed in an above-ground enclosure or a below grade vault that can be accessed for maintenance. The flow rate is approx. 100GPM (gallons per minute). The water in the spray park can be turned on and off with an activation panel that the kids can operate. A programmable controller is installed with these systems to control the volume of water used when the pad is activated.
Recirculation System: The water in this system goes through a filtration/treatment system so that it can be reused. You can use a higher volume of water than a drain-away system, which opens up more choices with the spray components that you can install. The recirculation system is significantly more expensive and more involved to install, but it saves in water use costs in the long term. Maintenance of this system would be conducted by staff members that have experience in maintaining the chemical levels in municipal pools. Recirculation systems allow for significantly higher water volumes. This translates to buckets that fill and dump faster, fuller water streams, and more components running concurrently.
HydroLogix™ System: This system goes with the AquaSmart line of spray parks from Aquatix by Landscape Structures (see step 4 for more details). HydroLogix™ uses an activator system which includes an activation device, distribution manifold, drain, and enclosure – all of which is housed in a single, stainless steel post on the spray pad. Kids can hit the activation pad to make the water features work for 90 second intervals. This system uses municipal water, but has a lower flow rate (approx. 50-60GPM) that offers lower water consumption. The key feature of this system is that it requires no electricity to operate and it uses less water than a standard drain-away system.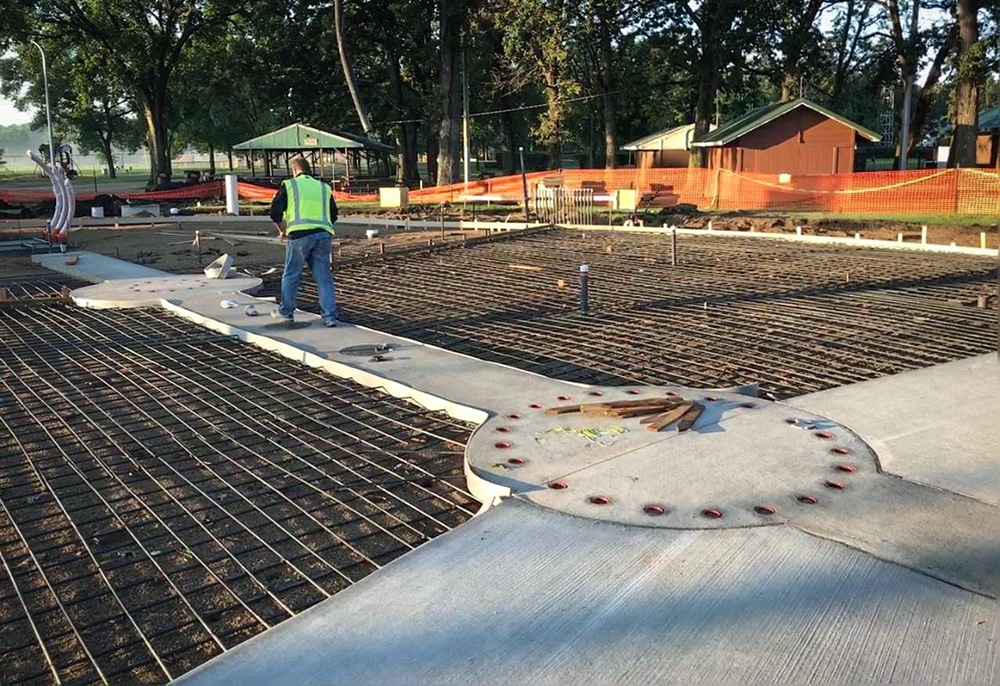 Step 4: Timeline and Budget Expectations
Timeline and budget will all depend on what type of spray park system you are considering. For a drain-away system, which is the most common, you will be looking at a minimum of 6 – 8 months from pre-planning to installation and grand opening. A geotechnical survey needs to be conducted to identify any structural issues. Electricians, engineers, and various municipal departments will need to be brought on board at the outset of planning.
If you are considering the AquaSmart splash pad design, your timelines will be significantly reduced. The best thing about this system is how simple and easy it is to order, install, and use. It offers pre-designed, pre-engineered, and pre-packaged designs that are powered by HydroLogix™ – a non-electrical water delivery system (see step 3 for more details). Because the designs have been pre-engineered with full construction documentation, your project would be ready for permitting immediately. AquaSmart was engineered to be easy to understand and quick to install. Delivery timelines are 5-6 weeks with a one-week site preparation and installation timeline, plus the 30-day concrete curing time.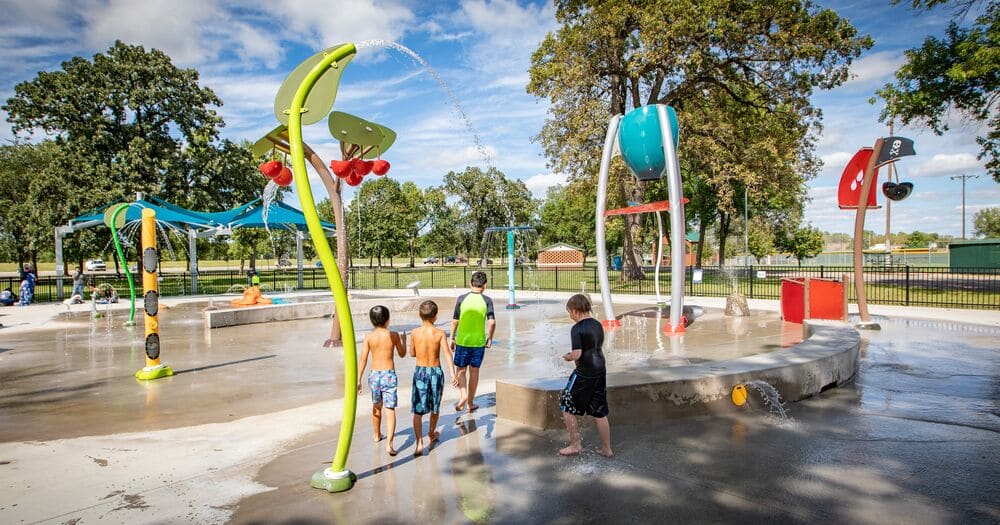 Step 5: The Splash Pad Design
The design phase is the fun part. You may already have ideas for a theme, colours (if matching colours to an existing park), and types of components that would suit your user age groups. You can get ideas from a gallery of products here. Your Habitat Systems consultant will be able to guide you through the different spray park features and the design team at Aquatix by Landscape Structures will put your wish list together into a design that meets your budget.
For smaller spaces, urban landscapes, pocket parks, and areas where access to electrical service would be difficult and expensive to provide, you can take a look at the AquaSmart packages. Another outstanding feature of these designs is that they can be easily installed by a community group that is supervised by a local contractor or a Habitat Systems installer. This can be a huge selling feature if there is a particular group who is – or who would like to be – involved in the project.
We hope that this guide has been helpful to you in planning and designing a destination for families to beat the heat in a fun, aesthetically pleasing water play space. We welcome any questions about the process and will be happy to assist you in any way.
Contact us today to book a splash pad design session!