Modern Playgrounds for All – Meet Quantis®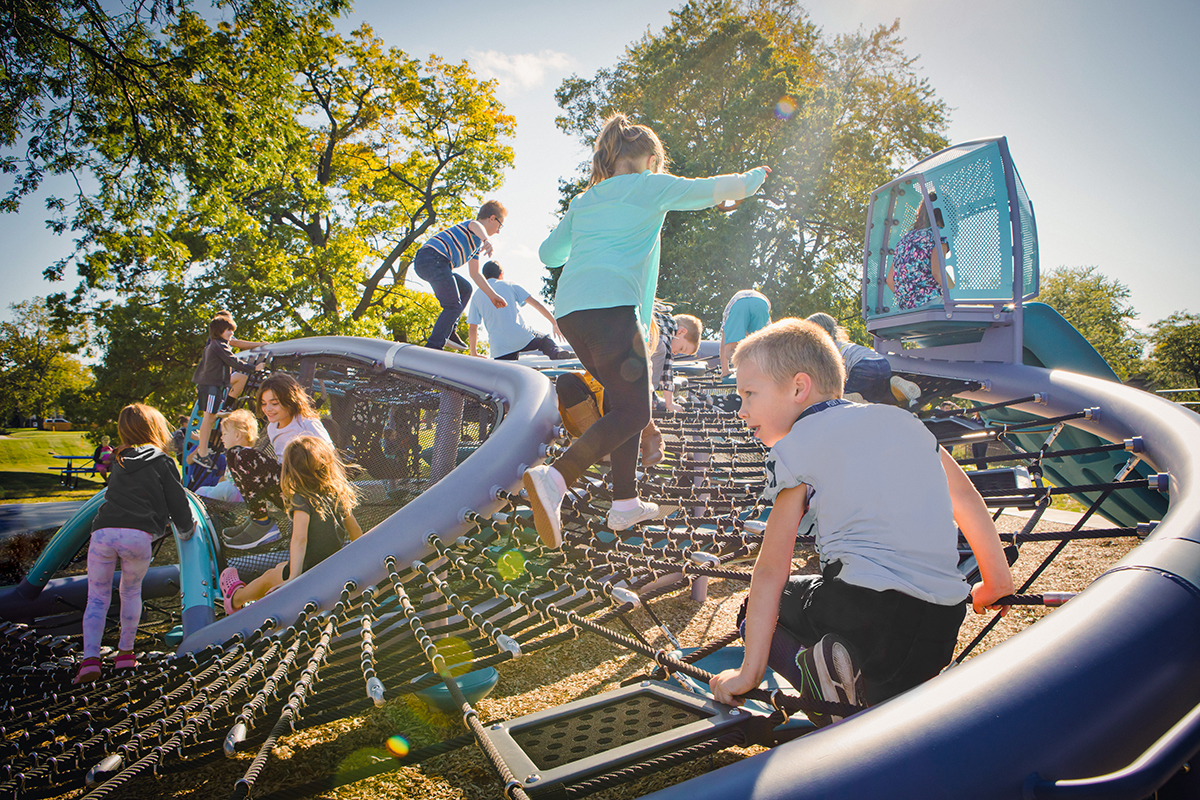 Quantis inclusive play structures are modern playgrounds that draw you in with their coloured curves, black webbing and cables, and uncommon shapes. They are definitely not your standard playground structure! With no obvious or prescribed entry points, kids need to plan out their routes of travel, how and where to climb up and get back down.
Kids naturally challenge themselves through play and the Quantis structures give them the opportunity to gain confidence while navigating the nets, belts, climbers and other amazing features. These structures challenge motor coordination, agility and balancing skills and provide a good workout for children's core muscles.
"What makes the Quantis family unique is the amount of variety they provide in a single structure. There are multiple routes of varying skill level, places to slide, hangout nooks, a variety of textures, events that challenge different muscle groups or body movements, and most important – an accessible transfer station. It is this complexity that keeps kids engaged and wanting to come back."

Justin Wilson, PLA, ASLA
These structures have inclusive features built in with accessible transfer stations that allow access to different areas of play. On the Quantis 8.2 there are two transfer modules with an accessible route to a slide. The A.2 and A.3 have a low wide belt that allows children using mobility devices to transfer onto the structure.
All of the Quantis structures have incorporated "hang out" areas where kids can take a break without having to leave the play completely, for example, the Oodle Swing seats and the lower swoop belts on the Quantis 8.2 and the webbing on the very top of the A.2 and A.3. As a kid, it's not often that you get to hang out on top of anything. On the Quantis structures, it's encouraged.
Quantis 8.2 offers lots of different play options at any given time with perceived high risk on the top level and lower risk the closer the play gets to the ground. Every post has a climbing opportunity with multiple ways to get on and off the structure.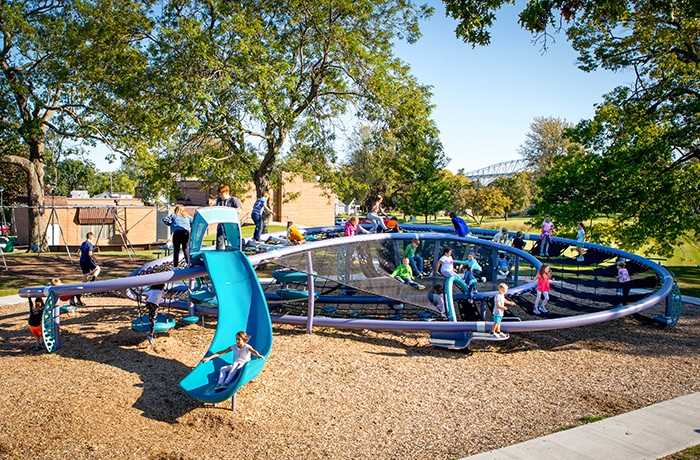 A nice feature for playground designers is that the highest point is 96 inches to keep surfacing requirements at an 8ft fall height.
One of the stand-out features on the Quantis 8.2 are the belts that lead to the higher level. Kids can run from belt to belt which is not something you often see on standard net-play structures.
Contact us today to find out how you can incorporate modern playgrounds like Quantis into your play space.