Canadian Tire Jumpstart Playground at Unwin Park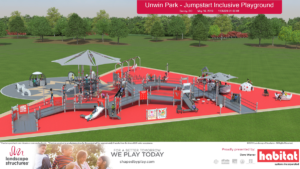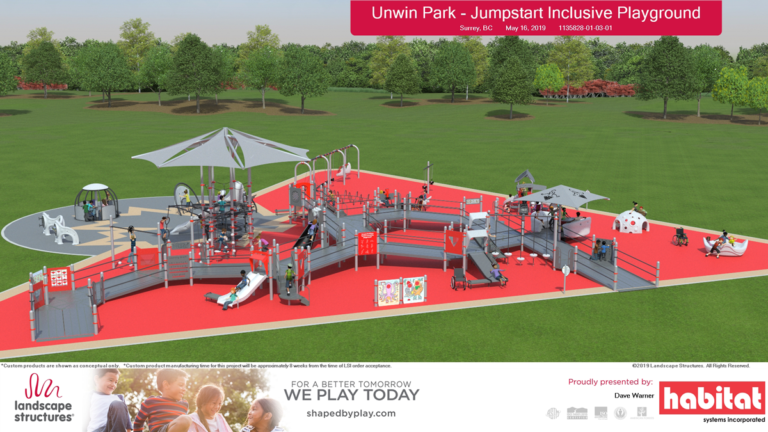 It was announced in early 2019 that the Canadian Tire Jumpstart Charities would build a universally accessible playground in Unwin Park as part of its Jumpstart Inclusive Playground Project initiative. Situated in Surrey, BC, Unwin Park is a large community park with lots of exciting things to do, including baseball diamonds and soccer fields, and a basketball court. In addition to a water park, there will now be a brand new 12,000 square foot accessible playground this coming fall!
Canadian Tire Jumpstart Charities was launched in 2005 to address an issue of national concern: the inactivity of kids. National in scope, but local in its focus, Jumpstart helps kids in financial need participate in organized sports and physical activities. And through its Play Finds A Way movement, Jumpstart's vision is to create large-scale, accessible playgrounds across Canada. Jumpstart will work with selected municipalities to design and build inclusive playgrounds for kids of all abilities, building at least one playground in every province and territory by 2023. Jumpstart has always been committed to supporting local communities and their goal is that these playgrounds will become a destination, and a gathering place, for communities to unite around play.
Habitat Systems is proud to work alongside Canadian Tire Jumpstart and our playground manufacturer Landscape Structures to create a truly accessible playground for children of all abilities. Some of the inclusive design features include pour in place rubber surfacing, making it accessible for wheelchairs to easily access all points of the playground with the assistance of double wide ramps allowing for enough space to change directions. Some independent components include the Sway Fun Glider, We-Saw and Omni Spinner. An addition to this park will also be the new We-Go-Round – designed for children and families to play together, including those in wheelchairs. Skyways Shade products were designed for comfortable play during hot summer days and Rhapsody Outdoor Musical Instruments have been incorporated to allow for creativity and express themselves through music.
This playground is designed to create developmentally appropriate spaces for kids of all ages and abilities, in a sensory-rich environment that promotes physical, social and emotional development.
Unwin Park is expected to open in early fall!
To learn more about this exciting project, contact us today.